This is another recollection of what I consider to have been a significant period in my life, when I was Age 17 – 19 Part 1.
Independence
Car Licence
I had been practicing driving a car for a number of months – most notably since I turned 16 years nine (9) months when I became eligible in NSW to get my learner plates. In addition to arranging learner driver lessons with a local agency, I had also been moving cars around the two (2) storey car lot at my work for much of the year. In the dealership, we had cars to be repaired, new cars and second-hand cars for sale – all needing to be moved around the lot on a regular basis. I was certainly up for the task when management asked for my assistance.
Additionally, I would practice in my local area after work, and on weekends. I figured I needed to get as much street time up as possible before my driver's licence test, as I certainly was not prepared to factor in being unprepared for the test, and maybe having to resit it at a later date. So, I embarked on my own learner driver program around the semi-industrial areas outside of business hours. Certainly not very legal, but I was quite confident to be able to do this without causing any accidents.
On my 17th birthday, I arrived at the NSW Transport Department to sit my car driver's licence. With only a minor comment to mention, I was confirmed eligible to be set free on the roads. I was allowed to drive home, and drove my self home for the first time legally down the highway.  As a person trying to understand my new life and my place in the world, I finally had what I associated as FREEDOM. I now had wheels and could go anywhere I wanted or needed to go – I was off… I loaded my car with music tapes and a tape player. I now had my freedom bus. I could drive to the shops, and load up the boot with stuff. No more train trips, and having to lug shopping bags home by hand. I could now drive to work, avoiding the need for public transport and saving much commuting time. I took to the streets at nights to visit my friends from the old neighbourhood. I found, at last I could once again breathe. I felt independent, and perhaps for the first time somewhat in control of what I did, and when I did it.
Motocross events
On Friday nights I packed up my bike trailer and followed the state motocross championship circuit. I would leave first thing Saturday morning, and drive out into the country – often a six (6) to seven (7) hour drive – often times more – to get to any of the country-based tracks ready for the Saturday practice sessions.

(DLP 2016a)
I would have the front passenger seat set up with a tape player, plugged into the cigarette lighter.  I just played one tape after another continuously until I arrived at my destination. These artists and albums created a listening backdrop to the many visual scenes I was taking in as I drove through the NSW, ACT and Victorian countryside and towns.
I would generally arrive mid-Saturday afternoon, in time to unload, and have several hours familiarising myself with the track during formal practice sessions. Being at a new track, adjustments to the bike were needed, along with running repairs if or when things broke or I had fallen off by pushing too hard. Even though I worked on the bike at home during the evenings between the various race days – cleaning and maintaining them –  there were always maintenance needed on the day…
At night, I would find a motel, or if not one around, I would grab some take-away food and sleep in the car. There was a number of  privateer competitors that were following the same circuit and we would hang out in the evening, before we bunked down for the night. With all of the riding, my riding was improving. I was starting to feel comfortable with my own individual riding style – quite an aggressive riding style – and getting some better results on the track. Eventually my riding style resulted in the snapping of the rear wheel tubular metal swing arm in half in a pre-race practice session. In examining the damage, I had several options: to replace the swingarm with a sturdier aftermarket product, or to have it repaired. I noted that the newer 1978 model bikes came fitted with far sturdier aluminium box section swingarms, with improved canter-lever suspension. This made these new models far more efficient on the arduous motocross track conditions I was racing on. After some research and doing cost analysis of replacing the existing parts, I decided it was indeed time to upgrade my bike to get the latest model motocross bike – a Yamaha YZ125E.
(Yamaha YZ125E 2016)
It took me some time to settle into this bike, and adapt my riding style to the different chassis design. However, continuing to follow the state motocross championship circuit provided me a lot of time to practice and adapt. I continued to make modifications to the bike at my work, and before long I was rewarded with some good results in the NSW State Championship at Amaroo Park competing against current NSW and Australian champions.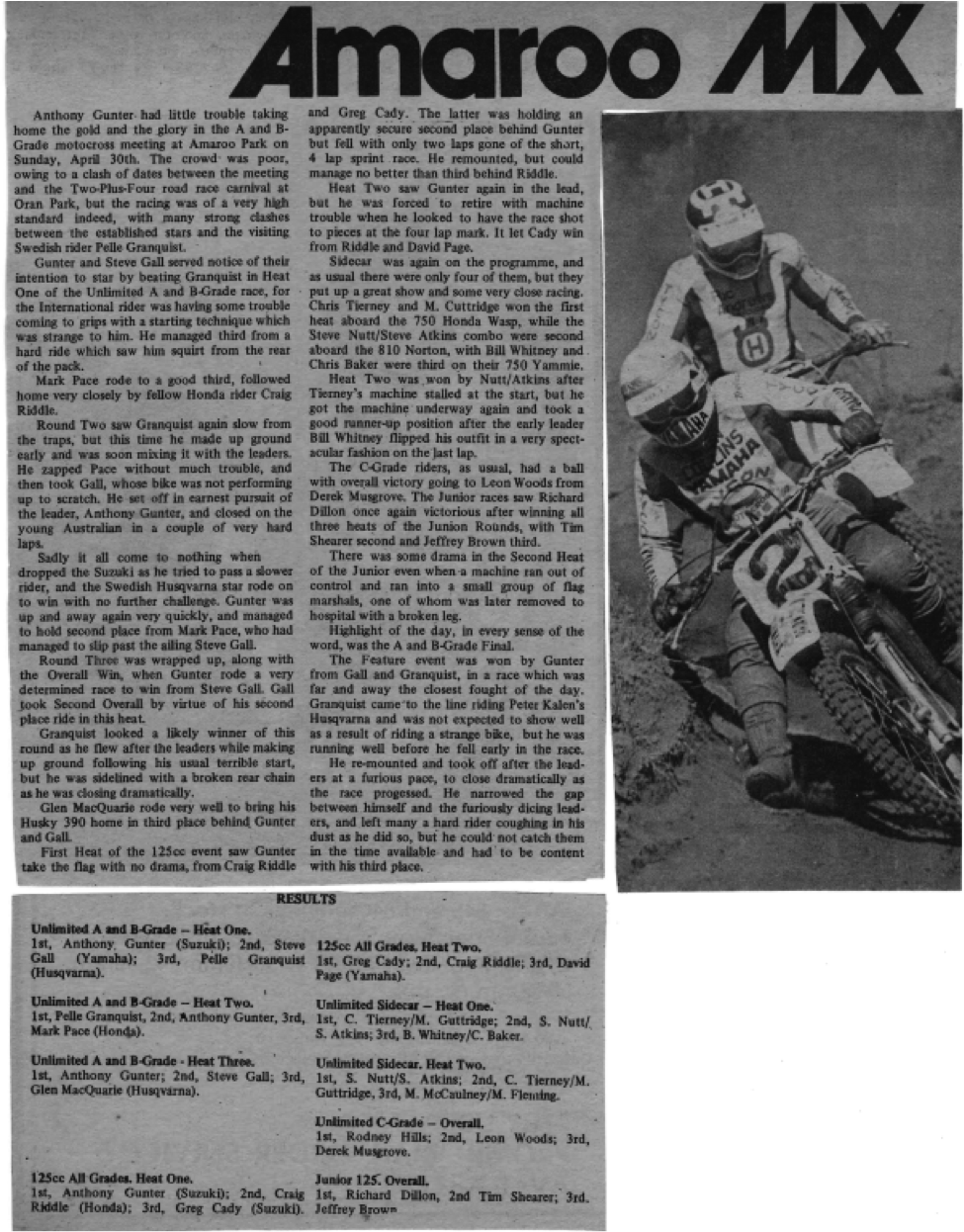 (DLP 2016b)
This result only provided greater incentive for me to train harder, and invest more time into developing my bike and my riding skills.
New Car
Around this time, there was an opportunity to buy a new car through my work. As a Renault specialist, I would get a sizeable discount. This was too good an opportunity for me to pass up on, especially given the kilometres i was accumulating with all of my state travel. The car was a new incarnation of the hugely popular Renault 12. Rebadged  with a bigger engine and a range of cosmetic changes, the Renault 1.4 Virage manual had a sunroof, air conditioning and stereo.  A simple, but extremely well built car that performed well above its price tag.  I had to borrow the money to pay it off, but given the Datsun was starting to show signs of mechanical issues, I felt it was a timely opportunity.

 (DLP 2016c)
Motocross
I continued to travel far and wide with my Renault to the Championship rounds around the state and beyond. Time would however reveal a weakness within the current model of the Yamaha YZ125E: the transmission and crankshaft. The Yamaha YZ125E when pushed in a competitive situation would overheat, and seize. I was in the ACT at one of the Championship rounds when I first experienced this. My bike engine seized during one of the racing rounds. As it was an unfamiliar mechanical issue, I and everyone around me were quite unaware of what had happened. It wasn't until I returned back to Sydney with my broken bike, and took it back to the dealer that I learnt what had happened. The bill to repair and replace the issue was going to cost about $1,000 – about 40% of what I paid for the bike. As these were production racing bikes, no warranty applied to them. This was devastating. Given I was on an apprenticeship wage, this was even more of a set back. Whilst I had some minor sponsorship, the cost of repairs resided predominantly with me to get the back back into competition mode. Additional to the cost, because it was a relative unknown issue to Yamahas at that time, the parts were not readily viable in Australia. They therefore had to be ordered from Japan, which was going to take some weeks at best as well. I recall it took about six (6) to rectify the problem, to get my bike back up and running.
(DLP 2016d)
Whilst I was waiting for the parts to arrive, I had other championship round events scheduled which I was going to have to miss.  By this stage, the issue with the Yamaha engines was well known to the competitive racer community.  The Yamaha transmission and crankshaft problem was now endemic, and causing considerable issue amongst all Yamaha YZ riders. I recall those of who were riding the arch rival Suzuki and Honda motorcycles wryly smiling during these times, grateful they were without a similar major mechanical issue as their Yamaha colleagues were experiencing. The Yamaha factory did not acknowledge nor attempt to address these issues with their customers – the riders.
Fortunately, I had some really nice semi-professional colleagues – one of who was running three (3) bikes – who insisted that I take one of their spare engines for the upcoming new Stadium Motocross event as listed below. I admit to feeling tentative borrowing someone else's engine. I could ill-afford to have the same issue happen to one of the engines I was borrowing. I therefore took that particular race easy, and did not do well.

(DLP 2016e)
I had to wait impatiently for the parts to arrive, and the repair to be completed. I guess i was chaffing at the bit by the time the repair had been completed. I was keen to resume my focus as soon I had my motor reinstalled.
I do not recall which event it was at; but during the first event after some six (6) weeks since my first engine failure, I returned to competitive racing. However, during the second or third event back, the same issue re-occurred – the transmission seized again. I was devastated. What the?? Again?? Knowing the cost of having the motor repaired for a second time, where was I going to get the money this time? Where? Where?
I was deflated, and took a few days to consider what options were before me. This model Yamaha was giving so many people in racing circles grief, with the same complaint. I knew what is was going to cost, and the time it was going to take to not only try to raise more funds for the cost of repair; but also the time it was going to take to get it fixed. And what was to say that it wouldn't just keep happening again and again? Based on the number of times I had heard it happening to other more professional teams, I made the conscious decision not to have the transmission repaired. The logical solution would be to upgrade to another manufacturer's model. However, with my recent debt with both the bike repair and buying a new car, I decided it just wasn't feasible at this time.  I felt that I had lost a lot of momentum with my racing over the past three months (3) and with Christmas holidays around the corner, it was time to stop and really look at my options.
I was unable to raise a further $1,000 to repair this mechanical fault, nor find the funds to upgrade to another motocross bike. It was the last time I raced competitive motocross. I went from having a very full life and focus, to not knowing what to do with my self and my spare time.
I can see the rain setting in again….
Page, David L (2016b) "Independence…." ©David L Page 2016. 
"Independence…." ©David L Page 2016. This audio event represents a developed sense of my recollection of this significant event.
References
Buckley, Tim. 1972. Greetings from LA. Straight Records. Vinyl LP.
Cohen, Leonard. 1967. Songs of Leonard Cohen. Columbia Records (broadcast Vinyl LP).
DLP 2016a image courtesy of: David L Page Accessed 19th November, 2016
DLP 2016b image originally from local off-road motorcycle newspaper, but now courtesy of: David L Page photo archives. Accessed 2nd May, 2016
DLP 2016c image courtesy of: David L Page Accessed 2nd May, 2016
DLP 2016d image courtesy of: David L Page Accessed 2nd May, 2016
DLP 2016e image originally from local off-road motorcycle newspaper, but now courtesy of: David L Page photo archives. Accessed 2nd May, 2016
Dylan, Bob. 1965. Highway 61 Revisited. Columbia Records. Vinyl LP.
Floyd, Pink. 1973. Dark side of the moon. Harvest. Vinyl LP.
Gallagher, Rory. 1972. Live in Europe. Polydor Records. Vinyl LP.
Genesis. 1974. The lamb lies down on broadway. Charisma. Vinyl LP.
Independence ……. audio link courtesy of: David L Page Accessed 5th December, 2016
Morrison, Van. 1978. Wavelength. Warner Bros. Vinyl LP.
Morrison, Van. 1970. Moondance. Warner Bros. Vinyl LP.
Morrison, Van. 1968. Astral Weeks. Warner Bros. Vinyl LP.
Page, David L (2016a) "Independence…." ©David L Page 2016
Rainy Image courtesy of: Rainy day image Accessed 5th November, 2016
Shining Sun image courtesy of: Living from the Well Accessed 2nd May, 2016
Stones, The Rolling. 1974. Goats Head Soup. Rolling Stones. Vinyl LP.
Young, Neil. 1979. Live Rust. Reprise. Vinyl LP.
Zeppelin, Led. 1971. IV. Atlantic Records. Vinyl LP.
– ©David L Page 10/05/1991
– updated ©David L Page 20/11/2016
Copyright: No aspect of the content of this blog or blog site is to be reprinted or used within any practice without strict permission directly from David L Page.